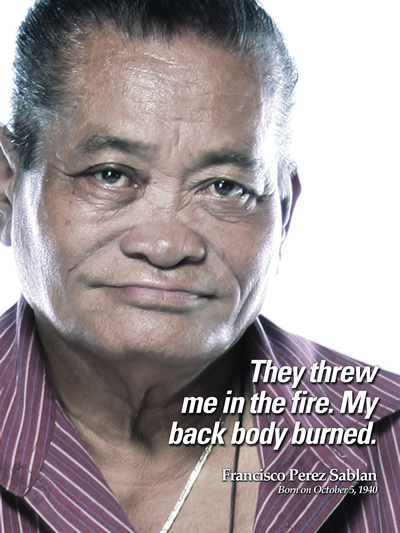 My name is Francisco Perez Sablan.  I'm here to testify on what my grandmother told me about how my parents got killed during the Japanese war and how I got hurt.

First of all, my grandmother told me that my father was beaten up and was punished, brutal. They hit him with sticks and they break almost every bone in his body. My mother, they grabbed me from my mother, they threw me in the fire. They slapped my mother. They kicked my mother. Now, I got about maybe 15% or 30% of my back body burned.

So, I'm just here today to tell you that it's a hard life, to grow up with no parents, no father, no mother. I didn't even finish my education because I have nobody to support me in my education. I grew up eating bananas, breadfruit, taros, lucky if I eat spam or corned beef in a month or week. It's a hard life.
Real People. Real Stories. A weekly testimonial series provided by the Office of Senator Frank F. Blas, Jr. The testimony of Francisco Perez Sablan is recorded in the Guam War Claims Review Commission public hearings held in Hagåtña, Guam on December 9, 2003. This story sponosored by the community involvement of Pacific Rim Brokers Incorporated.  Photo courtesy of Expressions Studio.