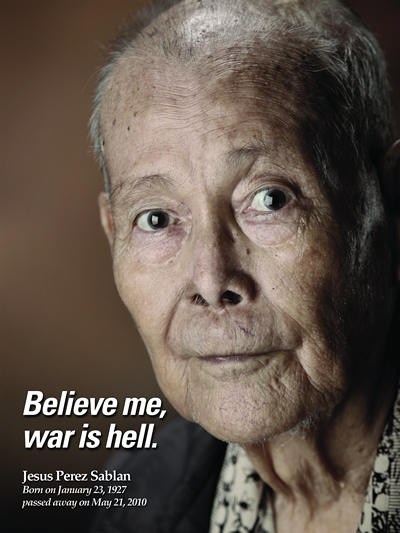 These are my two nieces, the daughters of my sister, Thomasa Sablan San Miguel. I'm sorry. My testimony will be short and simple, as intended to be.  I do not want to elaborate details by details. I get too emotional, and would ruin the substance of my testimony. Several years ago, I was asked to talk to two schools about my experience during World War II.

At Notre Dame High School in Talofofo, when I was speaking, and everything that I was saying, went through, and it just bring back all memories during the war. My eyes were watery and I just choked. I couldn't talk. It took a while for me to get my composure and continue talking. The third time that happened, my eyes cleared and I looked out at the children. They were young teenagers, some of them with tears running down their cheeks.

My name is Jesus Sablan from Santa Rita, Guam. I was born in 23 January 1927. I was 14 years old when the war broke out. Place of birth, Sumay, Guam, place of residence, in 1941 through 1944, Sumay, Apra, Mongmong and Yigo.

I was one of the Yigo forced labor work crew who were working at a construction site preparing it for use as airfield by the Japanese planes at Jalaguag airfield, which by air mile was not too far away. We clearly heard the sound of anti-aircraft firepower and saw dogfights between U.S. and Japanese fighter planes. All my co-workers ran into the boonies away from the construction site and were lying flat faced down, except me, who remained standing, furiously peeking through the open sky watching the dogfights.

My standing revealed our location, and the guarding Japanese many tanks fired in our direction. The shell hit Guam's most solid rock and a fragment of the speeding projectile almost completely become embedded in my right buttock. One was not treated and became infected and could hardly walk.

When I was living in Mongmong, I was recruited to work at the Jalaguag airfield. Then one day, the Japanese Army personnel forced us out of the house and took it for their own use. We moved to Gayinero Road in Yigo. I was then recruited to perform forced labor without pay at upper Tumon area at the early stage of construction. It was at Harmon where I was wounded.

In 1944, we were forced to vacate without prior notice of the intended move. We did not know the reason or how long we would be away. We journeyed to the old Salisbury School in the middle of Yigo. It was there that we found out that we were to be sent to a concentration camp in Manenggon.

We arrived in Manenggon without water, food or shelter. We hurriedly installed a lean-to temporary shelter using vegetation branches for our bedding. Believe me, war is hell.

How I managed to journey, to complete the journey, with my partially crippled dragging my leg with eventual healing was a mystery. Could only attribute it to faith, the will to survive, and, more importantly, the will of God. And I swear, that the above remarks were the whole truth and nothing but the truth, so help me God.
Real People. Real Stories. A weekly testimonial series provided by the Office of Senator Frank F. Blas, Jr. The testimony of Jesus P. Sablan is recorded in the Guam War Claims Review Commission public hearing held in Hagåtña, Guam on December 9, 2003. This story sponsored by the community involvement of Gary Wayne Francis Gumataotao, Attorney at Law.  Photo courtesy of Expressions Studio.