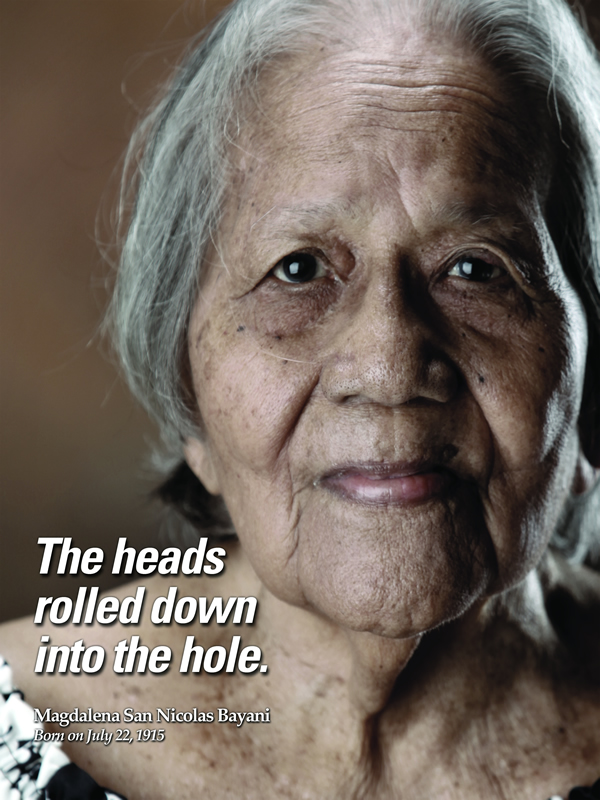 My name is Magdalena San Nicolas Bayani. At that time in 1941, Dec. 8, I was 26 years old. Now, I am 88 years old. On that morning when Sumay was being bombarded, I was at the church attending mass. Father stopped the mass and instructed us to leave church and go home because bombing had already started in Sumay. When I left, my sister and my brother-in-law were waiting for me.  They took me to Talofofo that morning and while on our way past Ylig, the bridge was already on fire. Then, we stayed in Talofofo for one week then we returned to Agana and stayed at our house. In a matter of months, the Japanese entered our home and they stayed. Then we left and went up to Mongmong. We were then told to leave again and so we stayed in Congnga. When we stayed there that was when we were obligated to work. We worked in Ta'i and every morning we'd go through the swamp all the way up to Ta'i morning and night. We'd leave at 5 in the morning and return at 8 at night. All day, we'd plant, dig, gather rocks, and pull weeds. We'd rarely eat during the day. One day, we were told to stop work, stand in line and we stood there without knowing what was going to happen. We were warned that whomever whines, cries, or call out, we'd all be killed.

There were three men who were standing there while some people were digging a hole in front of them. When the hole was dug, three Japanese with raised bayonets approached and told the men to kneel down with their hands tied behind their backs. They were told to bow their heads with their necks fully exposed. The three Japanese counted to three and the three were then beheaded right in front of us. The heads rolled down into the hole.

They then took us to Tiyan and we worked there. We did the same thing as before: plant, dig, gather rocks, and pull weeds. Not long after, one week later, we were called and sent to Merizo. Our stay there lasted about two weeks. We were not fed nor told about what we were told to do. We did the same thing again. At 5pm, we were released. At night in Merizo, we would weave thatched roofing. They didn't feed us or anything but we weren't hungry because of our fear. Again, two weeks later, the Japanese told us to go home. They took us in their trucks and would take us home. When we arrived home in Sinajana, we were greeted by a line of people on the side of the road. They left us there and we met up with our family members. No one spoke because of fear that our talking may result in our deaths. We would then whisper that we were then going to Manenggon. It began raining and it wasn't until midnight that we all proceeded towards Manenggon. We didn't get there until the crack of dawn.

When we got to Manenggon there was no place for us. There was no ranch so we slept on the ground or under whatever trees were available. Again, we didn't eat much because no one was allowed to cook. Coconuts were the only things we could eat because that was all available. The Japanese told us we were not allowed to cook anything and so, everyone obeyed for fear of being killed. Then, the American soldiers came and they told us that we were leaving. They took us through the mountains and down to Libugon and over to the Pigo' Cemetery in Agana. This, (Mrs. Huihui), was taken over to Agat.

And, my brother Juan was killed and two of Mrs. Huihui's siblings were taken to work and they ran away. They were lucky to have run away but my brother was too scared to run for fear of being killed. So, he was killed, my brother Juan Santos San Nicolas.

Real People. Real Stories. A weekly testimonial series provided by the Office of Senator Frank F. Blas, Jr. The testimony of Magdalena San Nicolas Bayani is recorded in the Guam War Claims Review Commission public hearing held in Hagåtña, Guam on December 9, 2003. This story sponsored by the community involvement of Gary Wayne Francis Gumataotao, Attorney at Law. Photo courtesy of Expressions Studio.

| | |
| --- | --- |
| | |