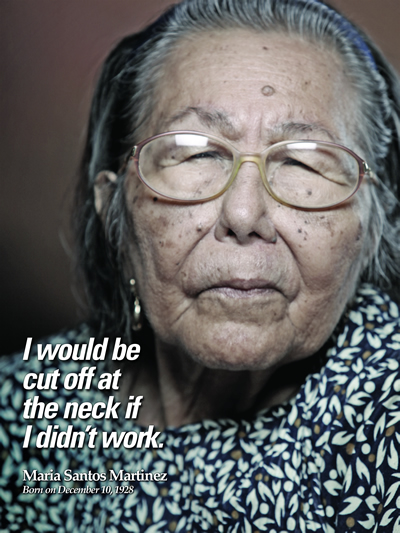 I am Maria Santos Martinez. I was 14 years old when the Japanese came on Dec. 8, 1941. When the Japanese came, they made us run into the jungle right near St. Johns. Our family hid there and it was so dark and we couldn't find each other because we were near a cave by St. John's. In the morning, my father left us to cut his tuba and when he climbed down from the coconut tree, he saw a battalion of Japanese coming from the direction of Gun Beach. They stopped at the house of my aunt and found a young woman by the name of Maria Camacho whom they dragged out and raped. They held onto her father and while a bayonet was pointed at him, the battalion took turns on the young woman. My father ran back to us in the jungle and told us about what he saw.

He urged us to flee to Tiyan just to be far away from the battalion. Later that afternoon, Saipanese Chamorros yelled at us to come out of the cave and for us to go and get passes. The next day, we got out and went to the school in Tumon and we saw lots of Japanese, many of them wearing loin clothes. I was scared and I hung onto my mother because I didn't know what to make of them and their appearance in their loin clothes. They then took us down to Agana and as we were passing by East Agana, we saw many dead Chamorros that were bloody and lying on the side of the road. Many of us wept.

We were taken to Agana to get our passes then we were sent back up to Tumon. We ended up staying at our house. This was in 1941. They sent me to school. I am now standing on behalf of my parents, my siblings, and my grandmother as well as myself because at that time, I was 14 years old. As I was attending school in Dededo, I would walk far to Mataguak from Tumon. My sibling and I always found ourselves walking in the dark as it would be night and we'd still walking on the road. Every morning, the Japanese would send us off to work.

When I didn't work, would then be told to make sure to clean my neck because I would be cut off at the neck if I didn't' work. I would always cry out of fear. I would tell my mother that I didn't feel like working because I was always so hungry and sick but a Japanese would always remind me that if I refused, I would be killed by being beheaded. Then, I would go. Every time I was hungry, I'd go and pick young coconuts. Because of my skinny body, it was fairly easy to climb the tree. I would share the coconuts with my companions and we'd always drink the juice from the fruit and then eat the young, soft meat of the green coconut called manha. We'd work at a flooded area where we'd sharpen hoes that were used as tools. We were assigned to clean these and there were a lot of us girls who worked there. When the American planes came they would shoot at us from the air because they thought we were the Japanese. We would all run into the jungle where we'd pray the Lord's Prayer.

We even tried sticking our heads into holes in the ground out of our fear of being hit. When my companions become thirsty and they ask to drink, the Japanese would then take their guns and hit them with it. My father was forced to work at Jalaguag. My mother stayed at home and took care of my younger siblings. When we were hungry, my sibling and I would ride on an available cow and we'd go to A'gi to find and bring back food. When we'd see grape tomatoes, we'd beg for it and then we'd bring these home to our house in Yigo where my mother would cook these together with the young seedlings of the breadfruit called dokdok.

In 1943, we were sent to march to Maimai because the forced labor was already completed. My mother's stomach was big and she almost died because an American cannon was shot and it almost hit her. At night, we were so thirsty and there was nothing to drink but the slippery strings of tadpole embryos. There were no coconuts that we could have and we were not allowed to climb trees as the Japanese would punish us. Then, we were herded off to Yona. We marched from Maimai to Yona and from there to Manenggon at the concentration camp alongside the river bank. Soon, the American airplanes would start flying overhead in the morning and then they'd shoot down at us and we'd all scatter and hide. The Japanese told us to go into the tunnel but my father warned us not to because he felt that that was how we would meet our end with a hand grenade thrown in at us. He reasoned that if we were to die, we'd be shot by the Japanese one at a time but not altogether at once.

Then, the Americans came and they took us up to the mountains and I got separated from my parents. The Americans took us then to Bradley in Asan where they fed us.

Real People. Real Stories. A weekly testimonial series provided by the Office of Senator Frank F. Blas, Jr. The testimony of Maria Santos Martinez is recorded in the Guam War Claims Review Commission public hearings held in Hagåtña, Guam on December 9, 2003. This story sponsored by the community involvement of Coast 360.  Photo courtesy of Expressions Studio.
| | |
| --- | --- |
| | |