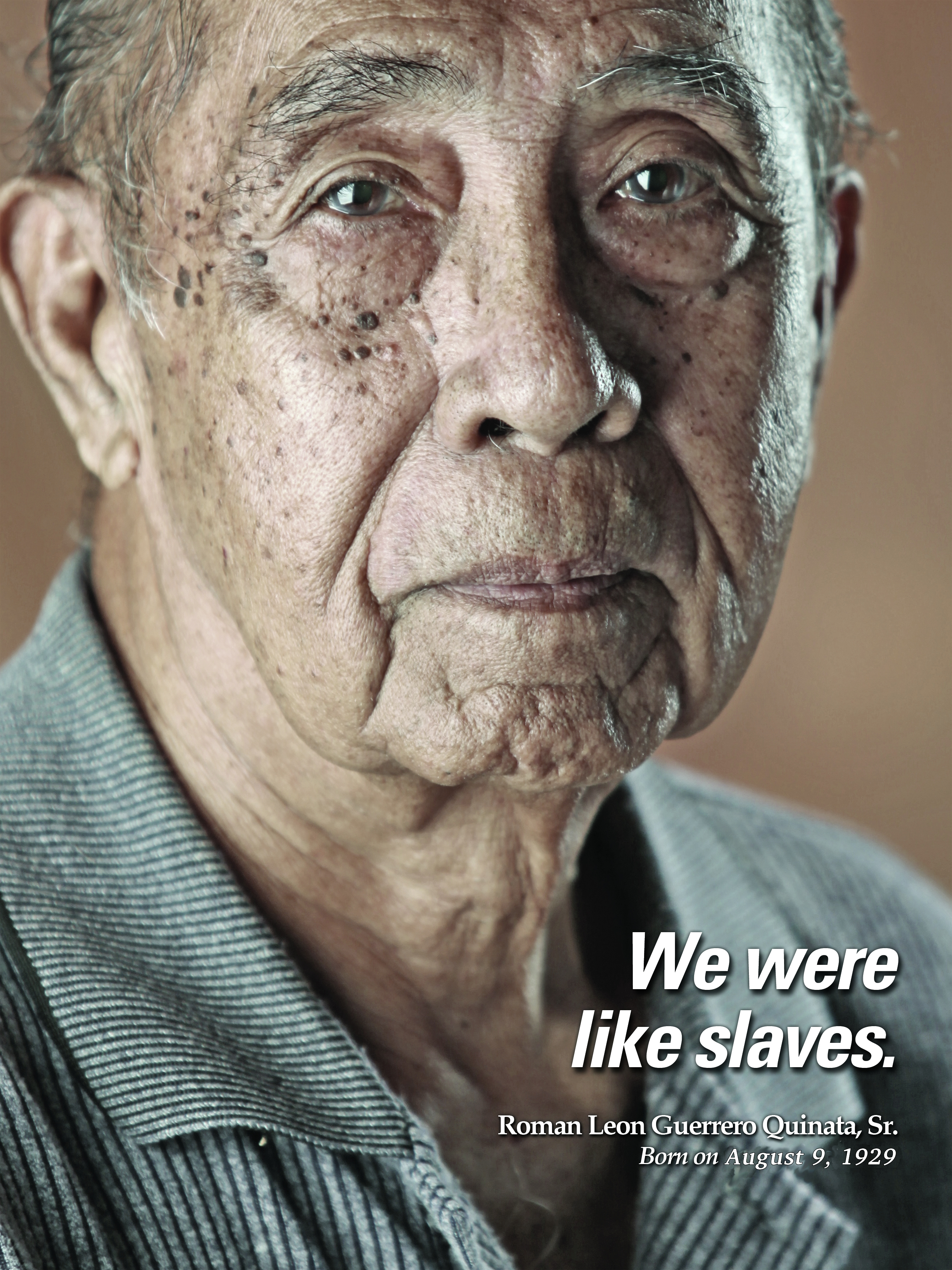 My name is Roman L. G. Quinata, Sr., son of Cayetano and Anna Quinata. Currently I'm residing in Ipan, Talofofo. My residence when the Japanese invaded Guam is in Inarajan. I am number four of the 12 of Cayetano and Anna Quinata. I was born in August 9, 1929. This makes me 12 years, boy still, starting to grow to teenager.

I choose to testify today, not because of hatred, not because of being complaining, but because of the unjustly and cruel treatment that we were made to bear by the Japanese. What can we do? This is done. It's done. According to our Almighty, be it done unto me according to the will. One is be it done according to their instruction and wishes.

Up to now, I do not understand why the animosity and suffering imposed on us by Japanese.  Imagine, I was only 12 years old, with no knowledge and experience of hard labor. I was made to do all these things. I was forced to work in the rice field, after several month of schooling. But, of course, the Japanese ambition is not to educate us, but to force us to do hard work, hard labor for their interest in combating this war.

No matter what it takes, no matter what it costs, as long as their interest is served sometimes I ask myself, "What have we done to make them hit us so much?" The Chamorros are a loving and generous people. They don't even respect the elderly. My mother recently had a baby, was forced to work in the rice field. Incidentally, the baby that was born just before the war, died during the war, after contracting pneumonia. Nothing matters to them.

Not only did I suffer from hot sun from morning to sun down in the rice field, I was forced to be in a group of various assignments. I was forced to do carpentry work in huts, for office, supplies, storage and ammunition hideout. After two or three years, I was forced to go and work at the airbase, airfield. This place is now called Tiyan, where the Guam International Airport now.

This is nothing compared to my previous assignment. This is really hard labor, with only basic tools that are dull. No adequate bathroom facility. No living quarters to sleep. The food ration that was served every day was prepared somewhere else. Our ration consisted of miso and rice that looked brownish and lots of small worms or insects. We were forced to eat it otherwise you will be punished, to leave, to die of hunger.

The Japanese do not care as long as their instruction and work order are carried out. This ordeal goes on for several months and finally breaks came true. Further in the airfield a UFO - was observed. This observation kept the guards busy and 10 and behold, it is an opportunity for us, laborers, to find our escape. Among us worker, we share whatever means, we will leave the airfield. There are bushes not far from where we were working. Through those bushes, by foot, we made our escape. We are bare footed. The only clothes we had was what we have on.

My parents are elated to see me. But, they are not happy of how the Japanese treated us. We look like a lost child, hungry and skinny with long hair, dirty clothes.   All of us experience lice on our head, but what can we do? There is no soap to wash ourselves and hardly any water. I told my mom we were like slaves.

Even more, after escaping from the airfield another assignment was instituted. We are forced to build concentration camp, several areas. We do not know why different camps. Later we found out that we are going to be shepherded and killed. Again, what can we do? We are under their mercy. We have to follow orders or suffer the consequence.

We march to various camps, going back to our huts at nighttime. We cook our food at daytime, bring it to the camp. The cooking is in the daytime, was that we are not allowed to at night because of the fire. It is very obvious that we are all, the Chamorro, they are that the U.S. soldier will detect the lights and will find us.

Back from Jalaguag, or the airbase, I was again put to hard labor, digging trenches, foxhole, tank traps on seashores. From the digging, our next assignment was to build hut for the concentration camp for shelter. This goes on for about three weeks, after they force us to march to Ipan, supposedly the plan was to have everybody in one place, easy enough to kill us. The plan did not work out and everybody returned to the concentration camp.

The Japanese have another plan for us. That evening, we were told that there is going to be a big celebration. Guess what? The celebration in store for us was there was going to be a mass killing. That plan didn't work either. The U.S. Army Rangers patrol surprised them. They had a very important mission to locate all the concentration camp, to direct all the Chamorros where to go for safety. I was made to scout the area on where the Japanese were coming from. It did not take long, however. There are still Japanese around and they force us to march to Merizo. Again, the plan is to do a mass killing. The designated place for us to be together is in Merizo Elementary School. We stayed over night. Before dawn, the Japanese start targeting us with hand grenades. They're not satisfied with hand grenades, they start shooting us with submachine gun.  Nobody got killed among the group, but we have one wounded.

Later we force ourselves to march back to Inarajan in a hill called Sabanas As Ma'gas. We stayed there until the U. S. Marine rescue us and guide us back to safety. It's such a very dramatic experience that will live with us forever.

I will summarize this ordeal as one that I will never forget. The pain, the suffering, the hunger and the beating is beyond my expectation. I am praying that it will not happen again, and none of my kids or grandkids will ever experience what I have gone through. It is only through a lot of prayers that we are safe. Our belief in the Almighty power give us willpower to go forward. Never for a moment that ever think that we will be in the Japanese authority forever. We always believe that there's God and that God will send Uncle Sam to rescue us. Although we did suffer loss, like my schooling, loss of a brother and other material loss, we bear no hatred or animosity to anyone. I believe that what we lost will be repaid abundantly. How can someone compensate a life? No amount of compensation can equal the value of a person. We prayed harder for business, for the person or persons that make those decisions for us to suffer.

Once again, our profound thanks to all for the efforts and consideration given to the people of Guam. Our prayers for everyone for a safe journey back to Washington. When the time comes to testify on our behalf, my dear Lord, enlighten your mind, clear all cloudy permission and may the testimony you will deliver to our fellow U.S. Senate be a worth and considerate on our behalf.

Real People. Real Stories. A weekly testimonial series provided by the Office of Senator Frank F. Blas, Jr. The testimony of Roman Leon Guerrero Quinata, Sr is recorded in the Guam War Claims Review Commission public hearing held in Hagåtña, Guam on December 9, 2003. This story sponsored by the community involvement of Gary Wayne Francis Gumataotao, Attorney at Law. Photo courtesy of Expressions Studio.
| | |
| --- | --- |
| | |